The Buckman Direct Diversion (BDD) is proud to announce the receipt of the Catalina Muniz Best Practice Utilities Award during the New Mexico Infrastructure Finance Conference (NMIFC). This award highlights innovative solutions implemented to address future challenges and manage resources that affect the watershed, affect regional partners, and allow for preparation of possible utility emergency situations.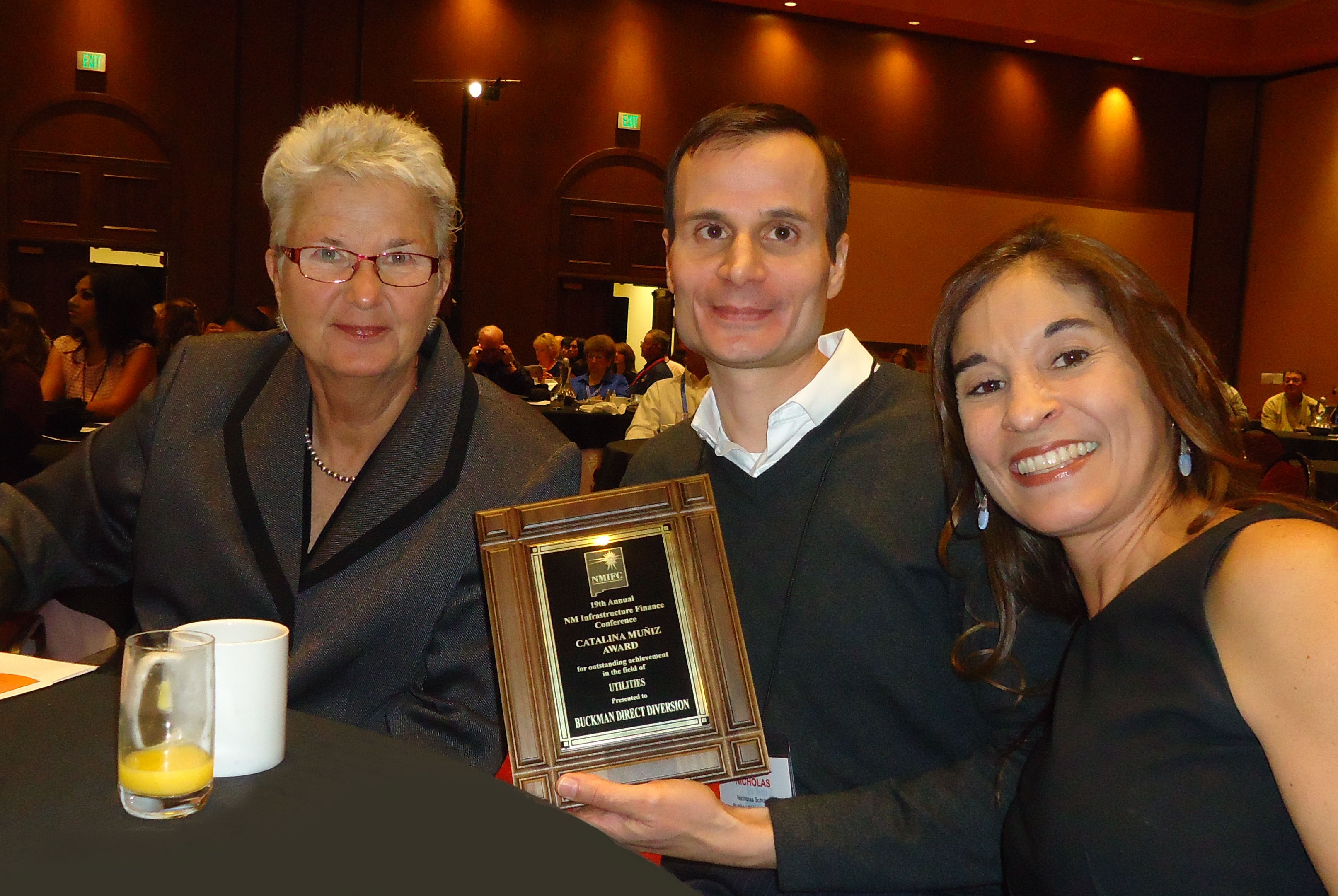 The NM Infrastructure Finance Conference recognized Buckman Direct Diversion for resilient and sustainable operations practices for the recent construction of a 1.5 megawatt solar array which will reduce the plant's electric costs.
City Councilor Joseph Maestas, BDD Chairman stated, "The Buckman Direct Division board's vision for energy and water efficient practices to reduce our carbon footprint and operational costs will benefit our partners and the community well into the future. BDD strives to be a leader in sustainable technology with fuel-free, renewable solar energy, and we're proud to be recognized by the New Mexico Environment Department's Infrastructure Finance team for Utilities Best Practices."
Receiving the award on behalf of BDD were Commissioner Liz Stefanics, BDD Board Vice-Chair and Nick Schiavo, Public Utilities Director.
This new solar array will provide 30 percent of the energy required to pump water from the Rio Grande River 11 miles and 1,100 feet uphill to the BDD water treatment plant. The combined energy savings of the BDD's two solar arrays will reduce the BDD's annual bill by approximately $400,000.
The 4608 high efficiency SunPower solar panels located in the new array reduce the required site footprint by 30%. Positive Energy Solar nominated BDD for this prestigious award. Positive Energy and Bradbury-Stamm Construction were the contractors for the project.
The BDD Board of Directors approved budget for the new solar array in 2012. The construction began in January 2014 with completion in June under the management of Rick Carpenter, BDD Project Manager.