Specialized Training and Certification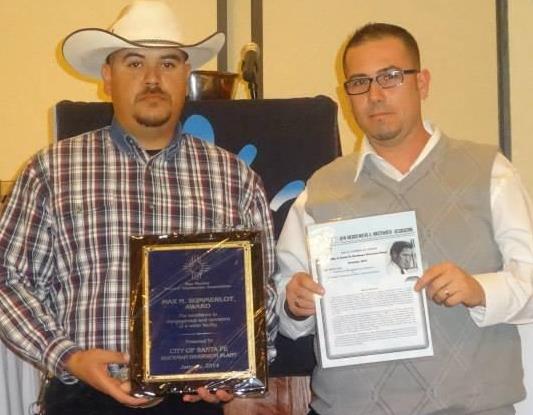 In October 2010, certified operators began a full-time internal, on-the-job training and BDD certification program. In May 2011 all BDD operators began running BDD with Advanced Treatment Facility knowledge and first hand on-the-job experience.
BDD also formed a partnership with Santa Fe Community College (SFCC) to help create ongoing training skills and certification programs for water operators.  We encourage local residents to consider a career with the BDD.  BDD works to create a 'grow our own' pipeline of interested young SFCC graduates who may choose to stay in New Mexico to pursue a career in water systems operation and management.
Refresh Your Career Stream!
Do you have an interest in working at the Buckman Direct Diversion Regional Water Treatment Plant? Do you have a thirst for working in an environment that provides a most important resource that affects every person in our community? Then check out our job postings, and apply!
We at BDD continually strive to hire the top professionals in our field from water operators, mechanics, and administrative positions.
Join our Team! Click on Titles below for job details
---
BDD JOB POSTINGS 
Apply for BDD jobs at the City of Santa Fe's Job Portal:
https://santafenm.munisselfservice.com/employmentopportunities/
---
Position Title: 
Salary Range: 

 
Posting Start Date: 07/06/2022
Posting End Date:  08/01/2022
---
Position Title:  
Salary Range:  
---
Position Title: 
Salary Range: 
---
For information on the SFCC's Water Technology courses and coursework guidelines, contact the SFCC at www.sfcc.edu or 505-428-1388.
For information on positions with the City of Santa Fe's Public Utilities, Water Division or BDD, contact the City of Santa Fe's Human Resources Department at www.santafenm.gov or (505) 955-6602.  All BDD and City of Santa Fe positions are hired through the City of Santa Fe's HR Department.
---
 The City of Santa Fe accepts applications for open positions only and will not accept resumes in lieu of an application.  Visit the City of Santa Fe's Web Site for more application information or click on the link here.  http://www.santafenm.gov/index.aspx?NID=501