Who's Responsible for the BDD
The City of Santa Fe, Santa Fe County and Las Campanas joined together in the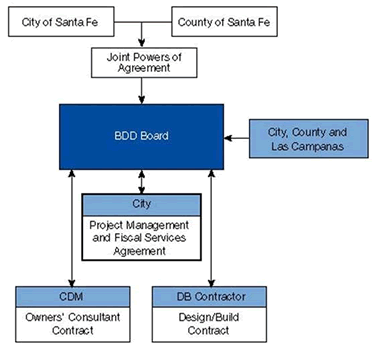 BDD Project when they were required to share a single diversion point for San Juan-Chama water rights and native Rio Grande water rights at a site near the old Buckman town site. This site, on U.S. Forest Service land, was determined to be the most feasible site for diversion of the river water after exhaustive studies. The U.S. Forest Service also required the three entities to underwrite the federal preparation of the Environmental Impact Statement.
The BDD Project Board was created by the City of Santa Fe and Santa Fe County via a Joint Powers Agreement in 2005 to oversee implementation and operation of the BDD Project. The City, County and their limited partner, Las Campanas, developed a Facility Operating and Procedure Agreement that governs how the BDD Project is operated. This agreement is overseen by the BDD Project Board.
The City of Santa Fe's Sangre de Cristo Water division is the Project Manager for implementation and operation of the BDD Project through at least the year 2015. The City is authorized by the Project Management and Fiscal Services Agreement (PMFSA) between the City and County to manage BDD Project design and construction and to initially operate the Project through 2015. Under the PMFSC, CDM is currently serving as Owner's Consultant and CH2M HILL/Western Summit Constructors Joint Venture is the Design Build contractor.