BDD offers tours and lectures which supplement classroom curriculums in water science topics.
Teachers, please keep in mind tours of the BDD plant teach students how raw surface water is treated and cleaned for Santa Fe residents' drinking water consumption, and physically going through the plant re-enforces the classroom water science learning component!
From the Rio to the Tap… How DID my water get so clean and tasty?!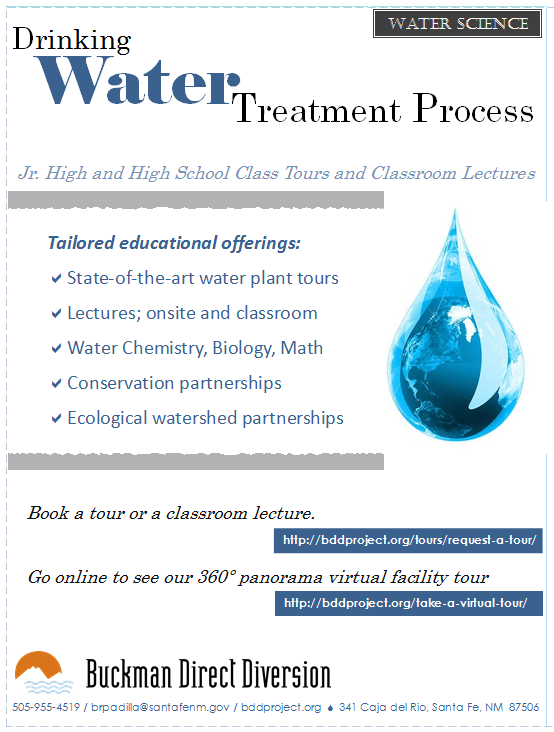 Where does Santa Fe get it's water? How is it cleaned, what is the process?  What kinds of chemicals are used to clean water? How much water  does Santa Fe use, in a day, month, year? What kind of staff positions are needed to run a water plant? What classes do students need to study in order to work at a water plant: Chemistry, biology, engineering, math, computer science and much more!
A lot goes into treating water that comes out of the Rio Grande before it pours out the faucet at your house. Touring the BDD facility allows students to associate what they learn in the classroom together with physically going through the water treatment process.
Having a hard time getting funding for the bus? There are transportation resources available through Partners in Education and through the City of Santa Fe's Children & Youth Commission, Youth & Family Services Division.
Teacher's flyer for Student Tours      
Click here to schedule a tour of the BDD plant online.    
See the BDD Plant from the Class
Still can't make it out to the plant, but would like to see our facility, and show the students?
Visit our AWESOME online 360 degree panoramic photo tour, click here! This great footage takes you through the water treatment process.